Private Tours offer you full freedom to explore Easter Island as you wish – you set the dates and decide which locations to visit with a private guide.
Enjoy a vacation of your dreams by setting the pace by yourself, with your family or friends.
Upgrade your hotel with Private Tours by choosing a Complete Program. These carefully planned programs by Kia Koe Tour are the best choice for a traveler who wants to experience the most important and impressive sights of Easter Island.
Full Day Tour: Anakena & Rano Raraku
Visit the unforgettable quarry Rano Raraku, the greatest platform Ahu Tongariki and enjoy the main beach Anakena, amongst the other wonders of Easter Island.
Full Day Tour: Akivi & Orongo
Experience Ceremonial Village Orongo, breath-taking volcan Rano Kau, quarry Puna Pau and the unique platform Ahu Akivi, amongst the other archeological sites.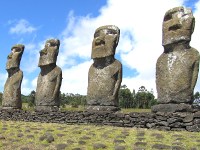 Half Day Tour: Akivi
Explore volcanic crater Puna Pau, the origin of redtops for moais, the exceptional platform Ahu Akivi, and learn about the history of Ahu Tahai.
Half Day Tour: Orongo
Witness the amazing Ceremonial Village Orongo, the breath-taking volcan Rano Kau and the mysterious platform Ahu Vinapu.