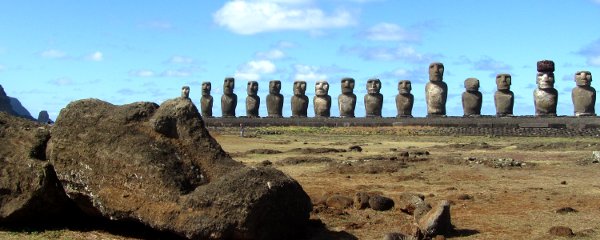 Planning Your Vacation
Immigration Control
When You are There
Weather
Practical Advise
Good to Know
Planning Your Vacation
How to Get to Easter Island
LATAM Airlines has flights to and from Easter Island (IPC) as follows:
Santiago de Chile, Chile (SCL)
Papeete, Tahiti (PPT).
When to Get to Easter Island
The high season lasts from October to April. The peak is on February, during the annual Tapati festival.
Other seasonal peak occurs in July due to winter vacations in Chile and neighboring countries. Independence day makes mid-September busy, as well.
Ideal Stay on Easter Island
The ideal stay depends on activities you are interested in. Generally speaking, 5–7 nights might be ideal duration since it takes at least minimum 2 full days to visit the main archeological sites on Easter Island and extra days for exploring the rest of the island with a rental car, experiencing sports activities or just relaxing is something you will miss if your schedule is too tight.
In case you are passionate about the history or archeology, note that there is more than 300 platforms and almost 900 moais on Easter Island.
---
Immigration Control
Access to Easter Island is regulated by an immigration law.
You're required to fill an Online Immigration Form before getting to Santiago airport.
There's an Immigration Control Booth by PDI (Investigations Police of Chile) in Santiago airport. To board a plane you're required to pass the Immigration Control.
See details about Online Immigration Form, requirements for Immigration Control and step-by-step instructions below.
Online Immigration Form
You should to fill an Online Immigration Form before getting to airport.
You might select Hotel PUKU VAI in a drop-down list. If you cannot see the hotel name, you might select "Other" and fill information as follows:
Hotel name: Hotel PUKU VAI (Hotel PUKU VAI Ltda. RUT: 76.113.286-5)
Street address: Av. Hotu Matua s/n, Isla de Pascua
Telephone: +56 (32) 255 18 38
Sernatur registry number: 434
When you complete filling the Online Immigration Form, you will receive a confirmation via email. You might print the confirmation email or show it on your device's screen at the Immigration Control Booth.
Immigration Control in Santiago Airport
You should fill Online Immigration Form before getting to the airport. Additionally, you're required to have following documents:
Passport (or RUT in case you live and work in Chile)
Round-trip flight (one-way is not accepted).
Hotel confirmation.
PDI officer at the Immigration Control Booth will hand you an Immigration Document. The document is required by another PDI officer before you're allowed to board to a plane.
Step-by-step instructions
The required steps for Immigration Control in Santiago airport are as follows:
Get to the airline Check-in Gate (First Floor). Ask airline staff if you cannot locate the gate (the same gates are commonly used for the US-bound international flights).
Do the Flight Check-in and drop your luggage.
Descend one level below to get to the Ground Floor.
Walk towards Domestic Departures until you see the airport security but do not go through it, yet.
Look for a queue that takes you to Immigration Control booth. The queue is on your right side, next to a wall.
Show your Immigration Form and other required documents to a PDI officer.
You will receive an Immigration Document (a paper slip that says "Tarjeta de ingreso") from the PDI officer. Save it for later.
Go through the airline security to access Departure Hall.
Ascend to the Departures floor. Get to the Boarding Gate.
Give your Immigration Document to another PDI officer. Board to a plane.
Immigration Control in Easter Island
Immigration control is similar but more straightforward when you arrive from Tahiti.
Immigration control when you fly off of the island only requires you to show your passport (or RUT).
---
When You are There
Activities on Easter Island
Tours are the most popular choice of experiencing Easter Island. The professional guides introduce the exciting history of the island and answer any question you might have.
Hiking, biking and horseback riding to Terevaka, the highest point of the island, are also worth considering.
Sports activities include surfing, snorkeling, diving and canopying. The island can be experienced by a boat, as well, while fishermen can always try their luck.
Spending a day on the beach Anakena or shopping in Hanga Roa are popular choices, as well.
The nightlife of Hanga Roa can best experienced on the main street, and dancing shows including seducing Sau Sau is highly recommended.
Tours on Easter Island
Hotel Puku Vai guarantees that all tours included in Tour Upgrades are provided by Kia Koe Tour, the first and leading Tour Operator on Easter Island, founded 1984.
Guided Tours should be reserved beforehand especially during the high season. Tour dates cannot be prefixed since tours are scheduled on weekly basis. Kia Koe Tour will provide your scheduled program at the airport when you will arrive to the island.
Renting a Car on Easter Island
The most economic models have manual transmission. There is only a limited availability of vehicles with automatic transmission. Other vehicles, including electric bikes, are available, as well.
Note, that most vehicles are relatively old with minor damage such as scratches and, thus, it is advisable to use only established rental car companies with clear collision damage policies.
Note that the rental period is 24 hours and given prices do not include gasoline or insurances.
National Park of Easter Island
National Park includes nearly half of the surface of Easter Island. There are several control points but currently, Rano Raraku and Orongo can be visited only once.
Entrance can be bought at the airport or the main street. Check the validity and conditions when you receive the ticket.
---
Weather
Weather on Easter Island
The climate is subtropical maritime. There is no rainy season and only minor differencies exist when it comes to precipitation between months. The air humidity is high all around the year.
Weather is pleasant and nice almost around the year. January and February are quite hot and humid when the lowest temperatures are measured on July and August.
Clothes on Easter Island
Comfortable clothes for outdoors activities are recommended. Sunglasses, solar protection and a cap should always provide useful. Women might consider pareu, a wrapparound, useful. However, horseback riding requires jeans or similar trousers.
Additionally, wind protection is recommended when visiting high places and a rain coat might be useful, just in case.
Running shoes or similar comfortable shoes are highly recommended when visiting archelogical sites since there are loose rocks on the slopes.
---
Practical Advise
Eating and Drinking on Easter Island
Seafood including tuna, octopus and lobster are local specialities. Restaurants serve meat and vegetarian dishes, as well. Curanto is a traditional way of preparing food: meat, fish and vegetables. Other tradicional food is called tunuahi.
Chilean specialities such as wines and drinks are worth tasting, especially Pisco Sour or Mango Sour. There is also a local brewery, Mahina, on Easter Island.
The closing time of the most restaurants is 22:00 (10:00 PM) while some are open until 23:00 (11:00 PM).
Water is drinkable but since your body requires a few days to adjust itself, bottled water is recommended. Hotel Puku Vai boils and then cools down all water served during the breakfast including water that is mixed with natural juices and drinks, as well as icecubes.
There are no stores or restaurants outside of Hanga Roa so you need to prepare yourself when heading outside of the village. Full Day Tour: Anakena & Rano Raraku of Kia Koe Tour include a Picnic Lunch.
Accepted Currencies on Easter Island
Chilean pesos (CLP) and US dollars (USD) are the only accepted currencies on Easter Island. Money exchange in case of most foreign currencies is not available.
Mastercard and Visa are widely accepted but there are several restaurants and stores that do not accept any credit cards or charge extra service fee when payment is done with a credit card. In most cases, the exchange rate is fixed on monthly basis.
There are currently only 2 ATMs on the island, the other (Santander) accepts both Mastercard and Visa while another accepts only Mastercard (Banco Estado). Note that the amount of cash you can draw at once in Chile is 200.000 pesos (CLP). In case you need more cash, you'll have to do it inside a bank.
Banco Estado and Santander are both open until 13:00 (01:00 PM). Visiting a bank is a time-consuming process especially during the last days of the month and, thus, it is advisable to have at least some amount of cash when visiting Easter Island.
Shopping on Easter Island
There are several souvenir shops and marketplaces where local artisans sell their products including sculptures made of wood and stone.
When you buy a sculpture representing a moai, you will receive a certificate validating that you are authorized to take the product out of the country.
Tax-Free on Easter Island
Easter Island is a tax-free zone, there is no VAT (value added tax) or any other taxes.
Tipping on Easter Island
Tipping is a common practice in restaurants and it is also considered polite to tip housemaids.
---
Good to Know
Sundays and National Holidays
Government offices, farmacy and tour operators are closed during national and religious holidays according to calendar of Chile, and on Sundays, as well. For this reason, tour reservations should be reserved beforehand.
Communications on Easter Island
There is no mobile network outside of Hanga Roa.
Calling outside of the island is quite expensive so you might be interested in Skype and other videoconferencing or instant messenger software to contact your family and friends. Hotel Puku Vai has a free Wi-Fi internet and has a laptop in the lobby that is free, as well.
There is no cable-TV on the island and, thus, only Spanish-speaking channels are available.
Precautions on Easter Island
Valid travel insurance that covers medical treatment and possible flight schedule changes is highly recommended.
In case you are planning to head out of Hanga Roa, inform your plans to hotel reception as a security precaution since there is no mobile network outside Hanga Roa.
The coastal line, craters and some archeological sites are dangerous. Tour guides will keep you away from danger.
Touching any objects when visiting archelogical sites is strictly forbidden by the law 17.888 of National Monuments. Tour guides will advice you about the rules and make sure that you will not accidentally violate any local laws or regulations.
Renting motorbikes or similar vehicles is advisable only if you are an experienced driver. There are horses, cows and dogs all around the island. Other risk factor is the condition of roads, especially uncovered ones, that makes driving challenging. Additionally, there is no street lights outside Hanga Roa, and even most areas of Hanga Roa are not properly illuminated.
Sun protection with a factor of 50 is recommended at all times, especially if your skin type is 1 or 2.
Outdoor activities contain a risk of dehydration. Keep some amount of water with you at all times.