Guided Tours by Kia Koe Tour include the most important and impressive sights of Easter Island and, thus, are commonly considered as the best value for money services.
Tours have been carefully planned and several aspects, such as illumination, have been taken into account for the best possible experience.
Upgrade your hotel with Guided Tours and you will receive a scheduled Complete Program at the airport with a Collar of Flowers.
Full Day Tour: Anakena & Rano Raraku
Visit the unforgettable quarry Rano Raraku, the greatest platform Ahu Tongariki and enjoy the main beach Anakena, amongst the other wonders of Easter Island.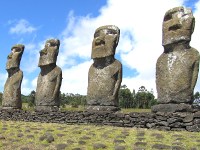 Half Day Tour: Akivi
Explore volcanic crater Puna Pau, the origin of redtops for moais, the exceptional platform Ahu Akivi, and learn the history of Ahu Tahai.